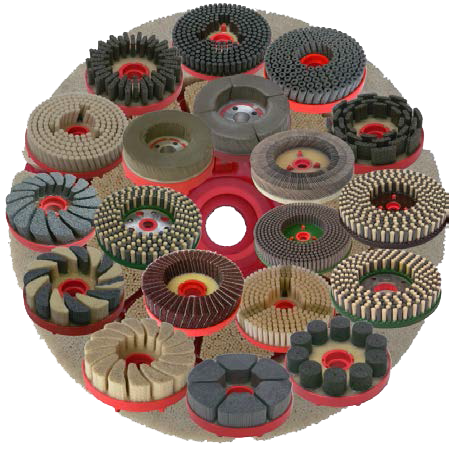 Applications :
Machining Centre's – VMC / CNC /HMC
Special Purpose Machine's
Milling mark removal
Edge Radiusing
Surface Enhancement with
improvement in Ra value
Large Flat Area DeBurring
Rust removal
DIAMETER: Standard 50 mm to 300mm and more
BRISTLE HEIGHT: Standard 12mm, 15mm, 18mm, 25mm & 38mm and more
RAW-MATERIAL: Silicon, Ceramic, Combi, Aluminum Oxide, Blueline, Diamond and IMEXSU Proprietary material range.
GRITS: Standard 36, 46, 60, 80, 120, 180, 240, 320, 500, 600, 800 & 1000 and many other non-standard.
NON-STANDARD CUSTOMIZED BRUSHES ARE POSSIBLE WITH ALL DIFFERENT DIAMETER, BRISTLE HEIGHTS, RAW- MATERIAL, GRITS & ITS COMBINATION WITH DESIRED BRISTLE HEIGHT.
Complete Solution provider for all types of DeBurring, Finishing and Polishing needs